Pansies grown in Central Virginia are a cool season annual. Pansies can be planted in the fall from late August until approximately Thanksgiving, and in spring starting in late February. Planted either time they should bloom until late May or early June. Pansies are equally easy to grow in the ground and in pots. Growing location and care is similar in pots as in the ground. Naturally, you will need to water pots more often than you would water plants in the ground.
Pansies like a well-drained, sunny location. Pansies prefer to dry out between watering. They respond well to a light application of Osmocote fertilizer in the fall when they are planted and again in late February/early March. If you chose to use a liquid fertilizer instead of Osmocote you should plan on fertilizing every 2 or 3 weeks – Osmocote is much easier and does the job just as good if not better. They do not need fertilizer during the winter.
Pansies will bloom all winter except during the very coldest periods. During a really cold spell they may look as if they draw up or shrivel, however, after a few days of warm, sunny weather, they will come right back in bloom.
Speaking of bloom, to perform at their best Pansies need to be deadheaded as blooms fade. Simply pulling off the faded flower petals is not enough… Be sure to pinch the entire stem off (that the bloom was on) back to the base of the stem. Seed pods also need to be pinched off. Seed pods are left when you simply pull the faded flower petals off or they naturally fall off. Don't confuse seed pods with flower buds!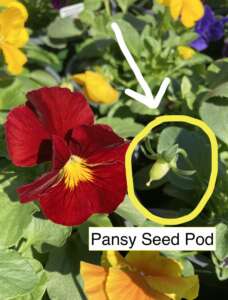 Pansy buds have more of an oval shape and typically show some signs of color. A seed pod (pictured here) is usually smooth, green, and has a tip where the pollen was. Leave the seed pod long enough and it will open up allowing the seeds to fall out. It's best to deadhead every 2 or 3 days.
Here are the four main categories of Pansies:
Pansies – Large showy blooms.
Violas – Smaller bloom but generally have more blooms than Pansies.
Panolas = Pansies + Violas! Blooms are slightly larger than Violas but more abundant than Pansies.
Cool Wave Pansies – Trail and spread, not very bushy. Ideal for hanging baskets and window boxes.
When the weather becomes very warm (mid 80's) they usually start to become leggy and look pretty bad. They should be removed and replaced with summer annuals.
Think about planting a pot, or bed of pansies in your school colors. Need ideas for other special occasions? Talk to us!