Hi! We're all named Gary. It's Great to meet you.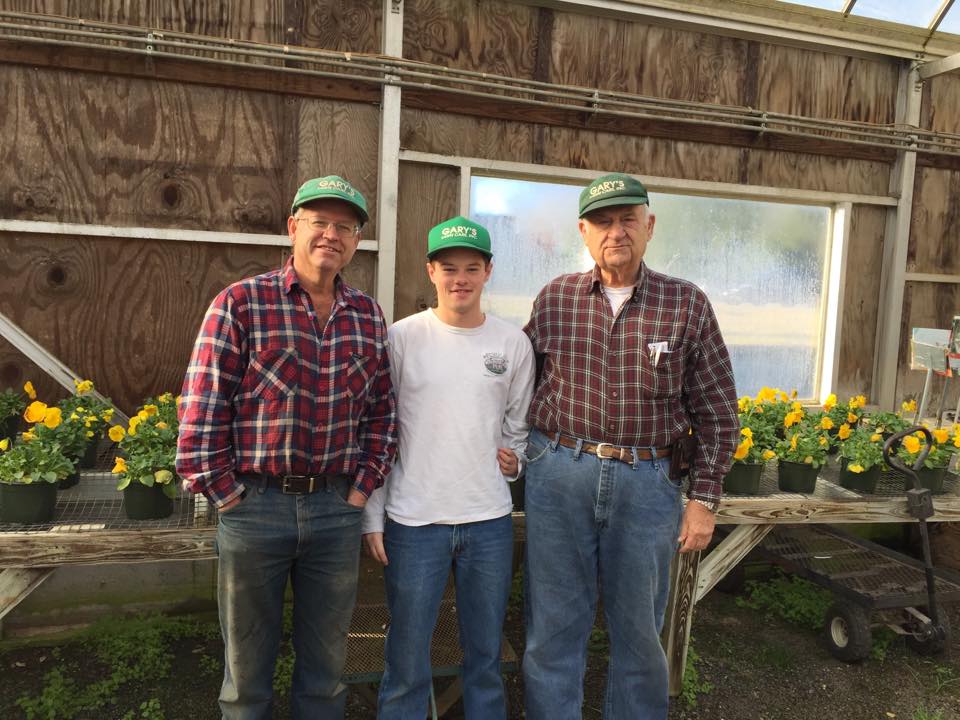 Gary Garner, Sr.
With over 60 years of experience, Gary Garner has the proven know-how and regional knowledge to ensure your next garden project is a success.
Gary Garner, Jr.
Two trucks, two mowers, and one dream drove Gary "Nelson" to start Gary's Lawn Care. Nelson knows grass and he can help yours look its best.
Gary Garner, III
A third-generation Garden Guru, Gary is ready to build on his family's legacy and expertise to keep Central Virginia's gardens beautiful.
Our Story
Started as Gary's Lawn Care by Gary Garner Sr. and son Gary Jr., better known as Nelson, Gary's Garden Center has a rich history in the agriculture and "green" industries. 
Humble Beginnings
Gary Sr. grew up on a flue-cured tobacco farm in Chase City, Virginia. After working in a grocery store, serving in the Army for 2 years, graduating from college, and working as an internal auditor at the Federal Reserve Bank, he found that sitting inside all day at a desk was not his kind of work. He decided it was time to put his agricultural roots to good use and took a job on the road selling agricultural chemicals for 11 years. 
Gary Sr. liked agriculture, so he bought not one but two farm supply businesses including facilities to manufacture his own fertilizer. This was in the mid-'70s and it was not the time to be in the farm supply business. Big companies as well as small were struggling, and many fell by the wayside. By the late '70s he decided to get out while he could, and he sold both stores.
1979 – Gary's Lawn Care is Started
In the meantime, Gary Sr.'s son, Nelson had been mowing lawns for neighbors and friends. The lawn maintenance business was just beginning to come into its own, so they decided that might be the business for them. With two junk trucks, two push mowers, and no money they entered the grass cutting business in 1979 with the name Gary's Lawn Care. The business took off and grew very rapidly. Later they also did some landscaping and seeding of lawns. 
Early 90's – Gary's Garden Center
Having been interested in the retail business for some time, they decided to explore garden center retailing in the early 90's. Their first experience was with Christmas trees. They did well, so the next year they bought a truck load of shrubbery and gave that a try. It sold out quickly so they continued to add lines of plants. 
Late 90's / Early 00's – Growth
That brings us to what we now call Gary's Garden Center! We soon outgrew the space we had so we purchased two and half acres, and built our first greenhouse. The community was good to us. We added 5 more greenhouses, and built a retail showroom and a large warehouse.
As time went on and the store grew we gradually began to phase out of the maintenance business and put more emphasis on the store. By the late 90's/early 00's the maintenance business was eliminated. In 2001, Nelson's son, Gary III, began appearing in advertisements and learning the business from a young age. Many of you watched him grow up on TV and in the store! By the 2010's Nelson assumed full management of the day to day operation of the store, and Gary Sr. faded back into the background.
2016 – Time for a Break
Fast forward a few years to 2016 and it was time for another change. The short version of the story is we had an opportunity come knocking for us to be able to sell the garden center. Gary Sr. was able to slow down, Nelson agreed to continue working at the garden center but got relief from 30 plus years of 80-hour work weeks, and Gary III was about to graduate with a BS degree in Business Administration from Gardner-Webb University. He was encouraged to explore his options, and get some experience working for someone else, and found a job at a local manufacturing business. 
2021 – Break time over, back to work!
Fast forward again to 2020 (yes that lovely year…) The company Gary III was working for shut down and he was laid off. Thoughts began to wander back to his first true love and dreams of a garden center. Two weeks before Christmas, Nelson was informed that his "services were no longer needed." 
Almost every day someone in the community said something along the lines of "We miss you!", "You need to start another garden center!", or "Please open another garden center." 
Ask and you shall receive! WE ARE BACK! Gary's Garden Center opened March 2021 near the intersection of Greenview Drive and Leesville Road in the former Greenview Nursery location! We brought back the exceptional quality, service, and knowledge that you remember and expect! We enjoy cultivating down to earth good friendships with the community! When you shop at Gary's Garden Center, you are more than a customer, you are part of our family and friends.
Thank you for your support over the years and for reading our story!
Come see us at the corner of Greenview Drive and Leesville Road!