Crepe Myrtles are one of the South's favorite trees. Visit any old southern farm, and you may see crepe myrtles that exceed 100 years of age. They can be found growing from the Gulf Coast to as far north as Baltimore and Philadelphia.
Crepe Myrtles offer full season appeal and are easy to grow. They have many outstanding features such as gray, tan, or cinnamon-hued branches. In Central Virginia they start to bloom in mid-June and, when cared for properly, will continue to bloom well into early fall. In the fall they produce foliage in reds, oranges, and yellows. In winter the exfoliating bark is revealed, showing off their naturally sculpted trunks.
Summer is the ideal time to purchase Crepe Myrtles. It is in the heat of summer that their true colors start to show. Red, pink, lavender, purple, white, and some new variegated varieties are truly spectacular. We carry a wide variety of plants, and any assortment of sizes. Remember, planted now, they will need lots of water to adjust to the garden and promote new root growth.
Most spring bloomers have delicate flowers that only last a week or two. Properly cared for Crepe Myrtles can bloom all summer. A light tip pruning and snipping off of old blooms will encourage new flowers. Heavy pruning in February and March will ruin the shape of the trees. Trees cut back too much will grow so thick that they do not get proper air circulation. They are then subject to insects, sooty mold, and powdery mildew.
Crepe Myrtles have many landscape uses. They can be used as a single specimen tree, or in mass as a hedge or screen. Some of the smaller selections look wonderful in large containers.
Always find out a Crepe Myrtle's mature height before planting. Crepe Myrtles range in height from 2 feet to 30 feet.
Crepe Myrtles need to be planted in a sunny area to show their best. In shade, they bloom little to none and quickly become leggy. Not all Crepe Myrtle varieties are suitable for Central Virginia. Gary's only carries varieties that will grow and perform in this area.
If you have need of a showy tree in a sunny spot where space is limited, consider trying a Crepe Myrtle. They will beat the heat and give wonderful color when not much else is in bloom.
A quick fun fact: both Crepe or Crape are considered correct spelling. The growers from which we purchase plants seem to be equally divided on spelling in the catalogs we receive.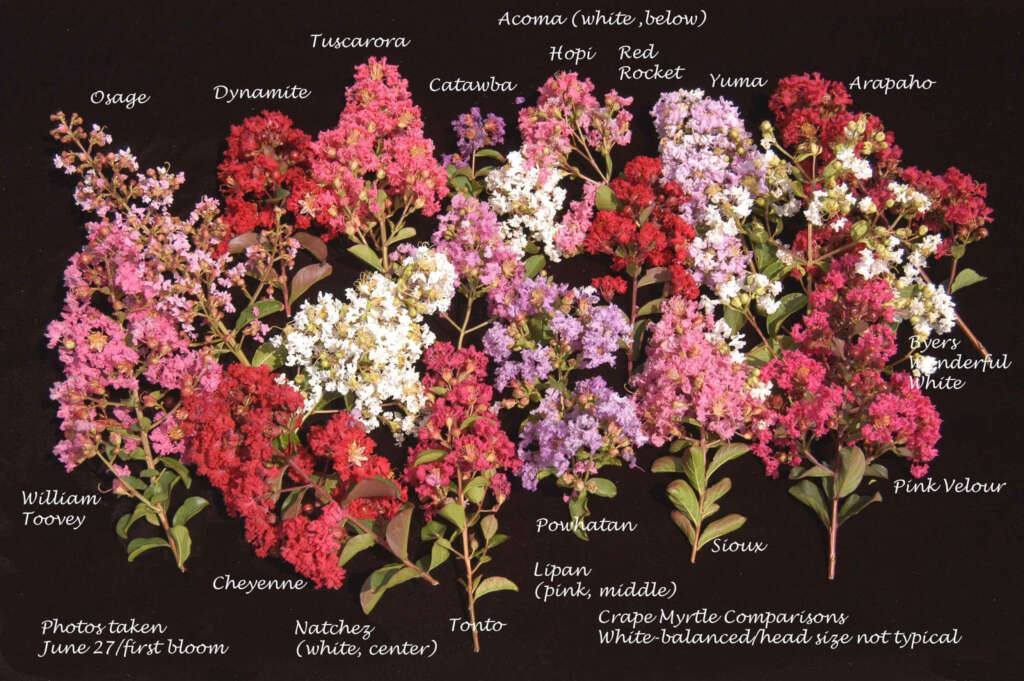 Image Credit: Crape Myrtle Trails of McKinney / https://crapemyrtletrails.org/varieties/complete-list-crape-myrtle/