HERBS
DRYING & FREEZING
Herbs have been around and in use for thousands of years. Their popularity has increased tremendously over the last few years. I think the push toward healthy eating and more natural remedies has helped to fuel the demand for herbs.
            Herbs are normally easy to grow. Plant them in proper lighting, a reasonably well drained soil, water and plant nutrients and they normally thrive. Most herbs do equally well planted in ground or in containers.
            I guess a definition of what an herb is might be in order. An easy definition would be an aromatic plant used for food, seasoning, or medicine. Some better know herbs used for food or seasoning are oregano, basil, rosemary, thyme, dill parsley, and the many kinds of mint. Some medicinals would be yarrow, elderberry flowers, plantain, and comfrey.
            You may not want to always grow or collect your own, usually you can find an assortment of fresh material at local farmers markets or in any well stocked grocery produce department. If it's a product that you only use sparingly it might be easier and less expensive to buy small amounts rather than to try and grow your own.
            A short list of herbs better dried than frozen would include basil, dill, fennel, mint, oregano, parsley, rosemary, sage, savory, tarragon, thyme.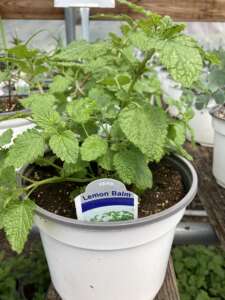 Freezing herbs would include basil, cilantro, chives, dill, lemon balm, mint, sage, savory, tarragon, and thyme.
            You may notice that most can be either dried or frozen
            There are many ways to dry herbs. They can be laid out in the sun where a breeze will hit them, they can be hung, or a dehydrator can be used. Herbs with thick succulent leaves are probably better dried with a dehydrator.
            Freezing helps to maintain the essential oils and spritely flavors of herbs. You do not need to blanche herbs for freezing. Just wash in cool running water, pat dry and freeze.
            We usually stock about 60 different herbs. Not necessarily all at the same time. For the best plants and to find a good selection I suggest you shop early. On some items supplies may be limited.
            As with most things the early bird gets the best selection.