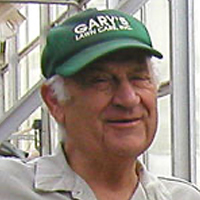 Gary Garner
The Backyard Garden Guru
Brief info
I have not always been known as the "Guru of Grass."  Back in my hometown of Chase City, Virginia, I went by my given name of Gary, also known to friends as "Cushfoot," but that's another story.  I have also been called some other things along the way.  I won't discuss those here.
After finishing high school I worked in a grocery store for almost 3 years and then decided I wanted to see what was beyond the scope of Chase City.  I joined the Army and spent the next 2 years in the intelligence service for Uncle Sam.
Upon leaving the Army, honorably, I might add, I came back to Chase City and spent 10 more months working for the grocery store.  At that point, I decided maybe I should again see what lay beyond the local area.
I then went to Richmond and started college at Richmond Professional Institute, now better known as Virginia Commonwealth University. After my Freshman year at college, I decided to get married.  That was a wise decision.  The jury is still out, but after 58 years I think it might last.  I did go on to earn my degree, a BS in Business Management.
Upon graduation, I accepted a job as an internal auditor at the Federal Reserve Bank.  The bank and the people were great to work for, but it was not my kind of work. Having grown up on a flue-cured tobacco farm I found working inside all day too confining for my taste.  Try sitting at a table piled so high with money that you can't see the person across from you after counting money all day for 10 days in a row.
It was time for another change.  I decided the Fed was not the place for me.  I then took a job selling agricultural chemicals.  During that time I was transferred from Richmond to Lynchburg and here I have been ever since.  I stayed on the road selling AG chemicals for 11 years.  Due to changes within the company and the agricultural business, it was now time for another change.  Believe it or not, I was not fired or let go.  It just seemed a change was in order.

I liked agriculture so I bought not one but two farm supply businesses including facilities to manufacture my own fertilizer.  Don't let that overly impress you.  This was in the mid-seventies and it was not the time to be in the farm supply business.  Big companies as well as small ones were struggling and many fell by the wayside.  A small entrepreneur, like me, did not stand a chance.  By the last seventies, I had two choices, either get out or be put out.  I sold both stores but took a financial beating in doing so.  In other words, I was broke.
Being at loose ends and with no money, I began to look for a business that I might start with no money and still make a living.  The lawn maintenance business was just beginning to come into its own, so my son, Gary Jr better known as Nelson, and I decided that might be the business for us.  With two junk trucks and two push mowers and no money, we entered the grass cutting business.  Today we fall it grounds maintenance.  Doesn't that sound nice?
People were just beginning to find out they could afford to have someone else take care of their lawn for them.  I loved it that people would pay me to cut their grass while they played golf.  I had much rather cut grass than hit a little ball.  The business took off and grew very rapidly.  Later we started to do some landscaping and seeding of lawns.  Unfortunately, due to the labor supply and time constraints we had to discontinue landscaping and lawn installation.
We had been interested in the retail business for some time so about 23 years ago we decided to explore garden center retailing.  Our first experience was with Christmas trees.  They did well, so the next year we bought a truckload of shrubbery and gave that a try.  It sold out quickly so we continued to add lines of plants.  We soon outgrew the space we had so we purchased two and a half acres and built our first greenhouse.  The community was good to us.  We have since added 5 more greenhouses and built a two-story barn with retail space on the ground floor and offices upstairs, plus a large warehouse.
Nelson has always been an important part of the business.  When we started the store he gradually assumed management of the maintenance business and I handled the store.  As time went on and the store grew we gradually began to phase out of the maintenance business and put more emphasis on the store.  Eventually, the store took both of our time to manage it and the maintenance business was eliminated.  Over the last few years, Nelson assumed full management of the day to day operation of the store and I faded back into the background.
Now it is time for another change.  As of June 30, 2016, we sold the store.  At 81 it's time for me to call it quits, on a day-to-day basis.  Nelson spent 30 years working 80 hour weeks, he needs to cut back.  Gary 3 was to come back after college and help with the business.  It is hard work and Nelson and I didn't feel like we wanted to burden him with that.
So the short answer is, we got an offer to buy the business from CLC Landscaping, owned by Chris Templeton, and we decided to make the deal.  Nelson is going to stay with Chris during the transition.  I am gone and Gary  3 is looking for a job.
I will be around; I am keeping this website and a presence on Facebook.  I will be doing weekly garden tips, writing a gardening blog, and working on a book.  You may even see me pop up in other places.  Even though I am gone I hope I won't soon be forgotten.
If you have something you would like for me to include in garden tips or write about I can be contacted at [email protected]
Thanks for the wonderful support you have given me through the years.
Gary, Sr.